Transmitting music in my own way
Belarusian composer Ales Tsurko talks about the concept behind his 2016 album Transliaciya and provides an insight into how regular expressions generate music from random Wikipedia articles on his upcoming album microscale.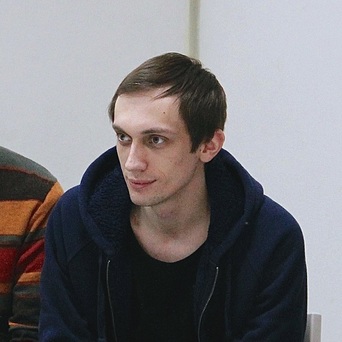 Preserved Sound: Hello Ales. First of all, could you introduce yourself and talk about your musical background?Ales Tsurko:
 Hello. I'm a self-taught composer from Minsk, Belarus. I graduated from accordion class in 2000 and percussion class in 2005 in Minsk, but have been making electronic music since I was 15.
In 2011, I founded the Society for the Development of New Music, together with composers and teachers from the Belarusian State Academy of Music, including Kanstantsin Yaskou, Maksim Kruhly and Olga Podhayskaya. The main purpose of the Society is to develop and promote contemporary classical music in Belarus.
My influences come from composers such as Sergei Rachmaninov, Valentin Silvestrov, Morton Subotnick, François Bayle and Iannis Xenakis, and I generally mix composition techniques from contemporary music with elements from the non-academic and electronic fields of music, as well as post rock and shoegaze.
Could you talk about the concept behind your 2016 album Transliaciya?
Transliaciya is a concept album. The word "transliaciya" means "transmission" – we are all transmitters of the Big Bang. Everyone transmits force in their own way – for example, a mother gives birth to a child, who then becomes a new "transmitter". However, the purest transmission is when an artist "transmits" to his or her audience.

Certain mathematical numbers occur more often than others. I talked to various people about these "popular" numbers and wrote an album that related to them mathematically. I also tried to portray the people I spoke to. The pieces "Twenty-six", "Forty-two" and "Thirteen" are all portraits of people, whereas "Twenty-seven" is a self-portrait. "No. 1", "No. 2" and "No. 4" are interludes, and act as moods.

Transliaciya took a really long time to make. We rehearsed it for at least two years, and over that time I used so many musicians during the recording of the album that if I could gather them all in one place, I'd have an entire orchestra! I also applied composition and harmony techniques I developed myself to write the album, which are most evident in the piece "Twenty-seven".
Could you tell us a bit about how you recorded the album and the equipment you used?
The strings were recorded in a big room in a former television production facility in Minsk. The violins and viola were recorded with Rode NT-55 and NT-5 microphones, the cello with a Rode NT2-A and the soprano voice with a Rode NT-1000, all using Presonus StudioLive preamps. I recorded my voice on the track "Transliaciya" with a Zoom H4. The samples were recorded with various different microphones. The recording and mixing was done in Logic Pro X, and I used Reaktor, SuperCollider and Cecilia for production. I also used some instruments on my iPad.

Finally, you have a new album ready for release. Could you tell us about it?
Yes, the new album is called microscale and uses regular expressions to generate music from random Wikipedia articles. Basically, if you think of a random text as a sequence of characters, and that music is linked to these characters. In this way, the meaning of one media (the texts) is disassembled and a new meaning generated in another media (the music).

​The album will be available in two versions – a physical and a continuous generative. The physical version will be rendered from the generative one, and each CD will be a uniquely rendered version, so that each copy available for sale will be unique. The generative version will also be available as a website. You can listen to a rendered version of the track "[grusha]" on the Anticipation of an Uncertain Future compilation. The album is due for release in spring 2017.
Comments