The imaginary manipulation of time
Following the re-release of Footfalls Echo, Visionary Hours talks about how tape echo was instrumental in creating the sounds on the album, and why the album takes inspiration from T. S. Eliot.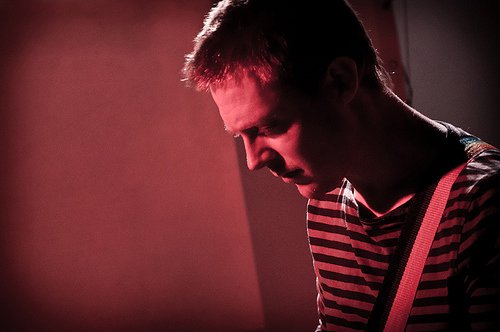 Hello. Could you introduce yourself?
My name is Hayden Berry and I produce music under the name Visionary Hours. Over the years, I've been influenced by a range of artists and genres, but more recently I've been getting into repetitive music, and the influence of analogue tape in music.
How did you approach your album Footfalls Echo in a different way? Could you describe the recording process?
After recording my previous album 
Still Point
, I wasn't completely satisfied that I'd explored the ideas and sounds on the album enough. More specifically, the tracks that made up 
Still Point
 could have been arranged and mixed in a completely different way.
And this is exactly how I started out working on Footfalls Echo. I re-visited many of the individual instruments that I recorded on Still Point and looked at re-purposing them to compose something completely new. With some, I simply reversed the individual tracks, while with others I cut sections out and sewed them back up, applied effects and reversed them.

I then took these re-purposed tracks into the studio with Richard Formby and together we used a Revox B77 to add waves of tape echo that we constantly fed back into the tape machine to point at which the track was on the verge of endlessly feeding back on itself. We recorded all of these new tracks, which became the basis for Footfalls Echo.

I took these tracks back into Logic and built upon them with new instruments, sounds and effects, and mixed the whole album down to a Tascam 4-track cassette recorder to complete the analogue tape sound.
Do the title and the track titles have any significance?
The expression "footfalls echo" is taken from the poem Burnt Norton, one of T. S. Eliot's Four Quartets: "Footfalls echo in the memory down the passage which we did not take towards the door we never opened". All the track titles on the album are taken from this same poem, which deals with the concept and imaginary manipulation of time. 

Apart from being a huge fan of Eliot's work, I wanted the titles of the album to refer to time and how our minds can manipulate time. This obviously goes well with the way in which tape echo is used on the album to manipulated time. Read together the track titles form a mini poem of their own: "the stillness of the violin reaches into silence, neither from nor towards ... the end precedes the beginning, sad time stretching before and after … in a world of speculation music moves only in time, which is always present". This is my tip of the hat to Eliot if you like.

"Footfalls Echo" is also the title of a track on Still Point, referencing where most of the material from the new album came from.
| | |
| --- | --- |
| | |
Why did you decide to re-release Footfalls Echo on Preserved Sound?
There are a couple of reasons. The album was originally released on Hibernate, as an edition of 100 copies with handmade linocut artwork by Katie English. The album sold out pretty quickly and I started getting requests to re-release it on Preserved Sound.

I also like my albums to be available to buy. There's nothing more annoying than discovering a fantastic new album on a small label, only to find that the physical version of the album is sold out! So I decide to re-release the album to give people who didn't buy it first time round the chance to buy it in physical format.

What's next for Visionary Hours?
I'm currently at the final stage of mastering a new album. This is a collection of 10 acoustic guitar pieces that has been a long time coming, due to the fact that I collaborate with a different Preserved Sound artist on each piece on the album.

Basically, I recorded 10 acoustic guitar tracks and sent them to different artists on the label, asking them to record one or two overdubs. In some cases, I sent the same track to different artists, which means that some artists are collaborating with each other blindly, without knowing that they're doing so!

The artists on the album include Richard Youngs, Trigg & Gusset, Adrian Lane, Western Skies Motel, 3+, Unconditional Arms, as well as Sly and the Unseen, Isnaj Dui and Bruno Sanfilippo (not our artists!), with tape echo and effects added by Richard Formby.

The new album will be released in spring 2017.

Footfalls Echo is available to purchase, download or stream here.
Comments